Please click
here
to
e-mail us.
Please click
here
to
return to the Home Page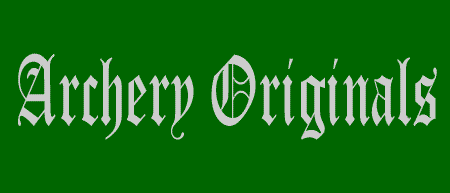 Bushcraft Knife
Introducing the Archery Originals 'Bushcraft Knife' manufactured for us in collaboration with Cudeman Knives of Albacete in Spain. With a Toledo Stainless Steel blade and a Rosewood handle we think this purpose made knife is eminently suitable for bushcraft.
The spear-shaped blade is 12 cm and readily lends itself to be inverted for peeling bark. The blade is contoured to prevent the knife from slipping off the work piece at the end of each cut. The blade tang is full tang; extending the full length and width of the handle for maximum strength. A tiny guard does not interfere with carving or sharpening. The Rosewood handle is shaped for an easy grip which also allows the knife to be held and used sideways. The handle is asymmetrical so the knife can be used safely in the dark, the operator knowing which side of the blade is sharp. Brass rivets hold the handle firmly in place.
Each blade is etched with the 'Archery Originals' and 'Bushcraft Knife' legends. Each knife is individually numbered.
The price of an Archery Originals Bushcraft Knife is £95 plus £10 special delivery postage.
The striking pouch sheath is made exclusively for us by Dixie Leather Craft and complements the quality of the knife.